Monday was June 25th.
It's Jesus's Half Birthday!
Which means, 6 months until Christmas!
We are half way there!
Monday was also Bachelorette night!
Are you all watching The Bachelorette? Or do you have better morals than me?
I feel like Emily would be a complete fool if she picked anybody BUT Sean.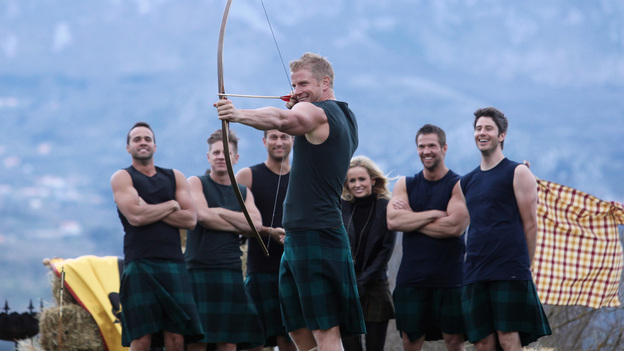 If he didn't get picked, I know there is a line of girls waiting to meet him!

Since we are talking TV. Do you watch The Firm?
It is so dang good! It's on Saturday nights, which is a terrible time slot. I heard it's getting cancelled and that makes me so sad. I think if you didn't watch from the beginning, it's a hard show to pick up in the middle.
And it's hotter than the dickens outside!
It sounds like the whole country is hot right now!
We had to get a little AC unit for our bedroom.
It was too hot in there! 3 of the walls have windows and they are OLD windows, so the heat sneaks in. It feels great now, but I HATE spending money on stuff like that! I would have much rather bought some jewelry, and home decor, and flip flops, and got my hair colored and nails done, and then go out to eat!
I picked up 3 prescriptions for Katie's hives!
One of them was a steroid. I was told it might cause insomnia. UGH! A sleeping child is what I cherish the most! Right now she is standing up in her crib perfectly quiet....oh no, Now she's asking for Mommy. Why is "Daddy" so hard to remember at night time?