Yesterday I mentioned that I got Melanie's book, Sparkly Green Earrings.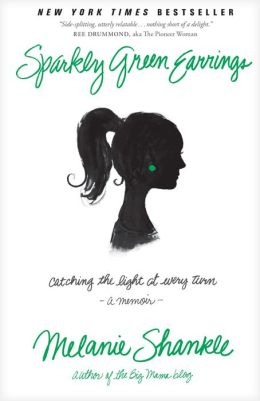 Last night Katie went to bed and Marcus was studying. So I plopped myself on the couch to watch the Oscars and I was going to peek at the book. I was still SO tired from the weekend, I just wanted to veg. Anyway, my "peek" turned into me reading the ENTIRE thing in one sitting! I left a nice dent in my couch cushion. Maybe I shouldn't have polished off a bag of peanut m&m's while I was reading?
It was so good! I also mentioned yesterday that I almost NEVER read books! I don't have the patience or the attention span. This book kept my attention and I didn't want to put it down. I related to so many things. It's nice to know that we are in the motherhood boat together!
This wee
k
end at Dot Mom

girls were dressed so dang cute. It was fun to people watch. And everyone and their grandma's dog was wearing the green Stella and Dot earrings. They

go with everything!
They looked JUST like the ones I am selling at Golightly's. I am so glad I kept a pair for myself!
And they are half the price!
While we are on the green train

(you know it's THE color for 2013!)

I will share some flats I found at Tarjay!
This bottom picture is how I really stand. My mom said she never knew which direction I was going. It's kind of Fred Flinstone-ish.
They are super comfy and were less than $20.
And this has nothing to do with green

, but we went to story time at the library today. I finally got over my fear of checking out books and let Katie pick 2 out.(I am afraid of losing them or someone ripping the pages!) She picked 2 Christmas books AND a Christmas movie.

Do you think she might be related to me?
And whomever said that it's not appropriate to have the TV as a babysitter, never had kids! Right now Katie is watching a movie as I am on my computer. Guess what she

's watching

?!
Mickey's Christmas!
God knew what he was doing when he put us together.